Private Water Supply Protection in Virginia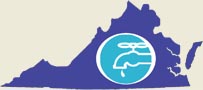 If you have a private water source, such as a well, spring or cistern, YOU are responsible for the safety of your family's water quality and the maintenance of your supply system! The Virginia Master Well Owner Network is a group of trained, dedicated Virginia Cooperative Extension educator/agents and volunteers who have completed training about protecting and maintaining private water systems such as wells, springs and cisterns, and about water conservation, testing and treatment. With members across the state, this network is designed to provide practical information to private water system owners like you. If this sounds interesting to you, consider becoming part of the network to help others learn how to protect their water supplies!

The Virginia Household Water Quality Program provides practical information to homeowners about maintaining and protecting private water systems such as wells, spring and cisterns. People who rely on public water systems for drinking water have professionals routinely testing their water quality to ensure it meets federal drinking water standards, but private water system owners must take care of this monitoring themselves. Through this program, drinking water clinics are offered in 10-16 counties per year, which provide affordable water testing, interpretation of test results and general information about maintenance of private water systems and dealing with water problems. Click here to find out how you can participate!
If you rely on a well, spring or cistern for your water supply, you are responsible for the safety of your family's water! This means you should take steps toward maintaining and protecting your well and regularly test your water.