WellCheck Program
How well is your well?
We depend on many mechanical systems for our day-to-day living, including our cars and home heating and cooling systems. Most of us rely on experienced professionals to help us maintain and care for these systems to keep them working properly and efficiently. Did you know that if you rely on a well for your household water supply, like 1.7 million other Virginians, you are completely responsible for routine testing, care and maintenance of that system? For most people, water supplies are out of sight, out of mind, until a problem arises. With your water system, a problem can not only be expensive to fix, but can also jeopardize the health and safety of your family!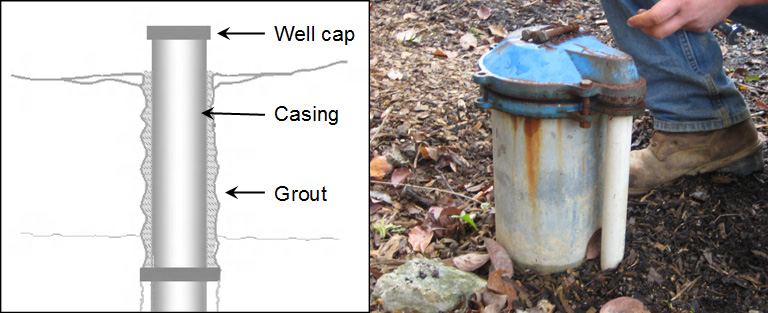 Should I have my well inspected?
We recommend having your well inspected by a licensed well drilling professional every 3 to 5 years, or if you believe there is a problem. The regulations that dictate well location and construction in Virginia came into effect in 1992, so if you know your well is older than that, definitely consider having it inspected.
If you have a drilled well (6-8" diameter), it should have a sealed sanitary well cap, intact casing that extends at least 12" above the ground, and grout seal. The same components are required for a bored well (24" or more diameter), but a sealed concrete cap is sufficient.
WellCheck is a collaboration of Virginia Cooperative Extension's Household Water Quality Program (VAHWQP) and Virginia Water Well Association. Our goal is to provide comprehensive, easy to understand well inspections to homeowners by connecting them to local licensed well drillers.
Interested in getting a well inspection?
Please visit here to access a list of participating well drillers.
Are you a contractor interested in providing inspections?
Click for more information.
Upcoming drinking water clinics
Click here for a list of upcoming drinking water clinics.
Need more information?
If you need more information or have any questions, please contact the coordinator.